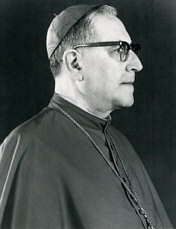 Pontifex Maximus Gregorius XVII
(1958 - 1989 A.D.)

Pope Gregory XVII (1906-1989)
Born. Giuseppe Siri, May 20, 1906, Genoa, Italy.
Education. Seminary of Genoa, Genoa; Pontifical Gregorian University, Rome.
Priesthood. Ordained, September 22, 1928, Genoa. Further studies, 1928-1930. Faculty member of Seminary of Genoa and pastoral work in Genoa, 1930-1944.
Episcopate. Elected titular bishop of Liviade and appointed auxiliary of Genoa, March 14, 1944. Consecrated, May 7, 1944, Genoa, by Cardinal Pietro Boetto, S.J., archbishop of Genoa. Promoted to metropolitan see of Genoa, May 14, 1946.
Cardinalate. Created cardinal priest, January 12, 1953; received the red hat and the title of S. Maria della Vittoria, January 15, 1953. Papal legate to 4th centennial celebration of death of Saint Ignatius, Loyola, July 19, 1956; to religious celebrations of International Exposition of Brussels, Belgium, July 24, 1958.
Roman Pontiff. Elected 261st Successor of St. Peter, choosing name Gregorius XVII, October 26th, 1958 Rome. (Chose the name Gregorius in honor of Pope St. Gregorius VII.)
Significant Papal Action(s). Created Cardinals (which included designation of a Camerlengo) to carry on mission of Church (Hierarchy) 1988. Formulated 'Continuance of Papacy Plan' 1988 to 1989 with Papal directive to *elect His successor promptly were he to die in unforeseen manner (*this occurred).
Death. While in exile, May 2, 1989 Villa Campostano, Albaro, Italy.